Types of Residential Electrical Services
Residential electrical services can be a lot of different things, from small repairs to the installation of circuits and outlets. There are numerous types of electrical services that homeowners need, and having them performed by a professional electrician can save you a lot of time and money. Here is a list and explanation of some of the most common residential electrical services types that every homeowner should know:
1. Setting Up New Appliances
We all know that setting up new appliances is not as simple as unboxing and plugging them. They need to be properly wired to work, and some may need to upgrade the electrical system before installing them. 
When installing new large devices in an old house, it can be hard for the structure to hold up under their amperage and electrical demands. This is why it's essential to have your home inspected before the appliances are brought in. A professional electrician will make sure that your home can handle the additional power needs and recommend any upgrades that need to be made before installing your new dishwasher or freezer.
Such electrical service is usually performed for heavy energy-consuming appliances like microwaves, refrigerators, and washing machines. This electrical work is usually done in a property with more than one housing unit that uses electricity in an accumulated area.
2. Ceiling Fan Installations
While many people believe that installing a ceiling fan is as simple as hanging a picture, this is not the case. The holes for mounting may not line up, and you may need to drill new holes into the ceiling joists. It takes an expert electrician to locate these holes properly and ensure that they will be in the proper position for securing the mounting hardware provided by the manufacturer.
A ceiling fan is not usually replaced or installed according to a set of instructions. This is especially true if the room was not designed with a wiring plan in mind. When assembling a ventilator or troubleshooting a problem, it is crucial to hire a qualified electrician who can safely and efficiently set up a fan and address issues like flickering lights and slow blade oscillation.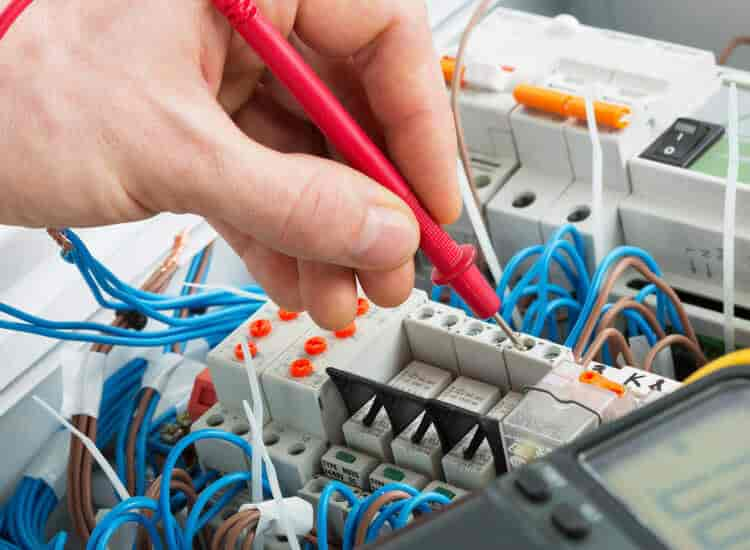 3. Lighting Services
Light bulbs burn out and need replacement from time to time. It could be from excessive use or a manufacturing issue. If you notice that your lights constantly flicker, it could be due to loose wiring in the light fixture system. This needs to be checked immediately by a professional electrician before anyone gets hurt. 
Most probably, you are unfamiliar with the processes involved in indoor and outdoor light wiring. Even if you know how to do them, you should still get help from professionals. When working with electricity, relying on an expert will reduce the risk of injury. Furthermore, this ensures that the job is done safely, neatly, and professionally, leaving you with excellent home lighting after the installation.
4. Electric Panel Upgrades
This service is necessary if you plan to live in your current home for a long time. Electrical panels consist of the main circuit breaker, switches, light fixtures, and outlets. Over time, these panels might experience electrical failures or malfunctions that can result in fires.
If you notice signs that your panel has difficulty handling your electrical devices, such as several blown fuses, crackling noises, and extremely hot outlets, then it is time to upgrade to a new one with more circuits. A licensed electrician can install a breaker system with a greater capacity to safely and effectively meet the needs of everyday power consumption.
Call a Professional Electrician for Residential Electrical Services
Doing electrical repair alone is not easy, and it can be very dangerous to deal with broken circuits or wires without the advice and aid of an electrician. The best way to handle electrical repairs and services is with the help of an expert. 
A residential electrician has the training and expertise to work with most electrical problems. They will be able to diagnose the problem and give you an estimate of what it will cost to fix it, as well as how long it will take. By working with a professional electrician, you can feel secure in the fact that your electrical system can be trusted to operate safely at all times.